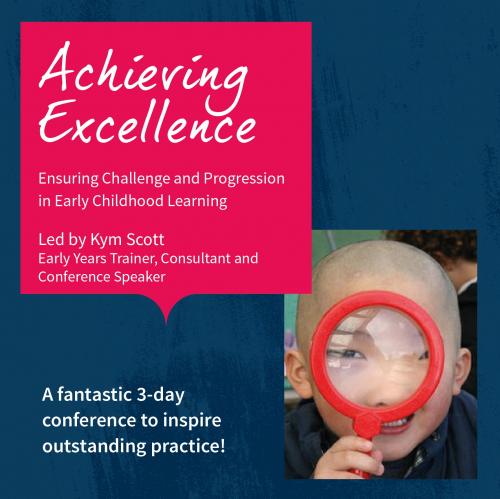 Achieving Excellence
Venue: St Andrews International School Bangkok (Primary School)
Cost: ฿11,500/3-days, ฿4,300/day
Ensuring Challenge and Progression in Early Childhood Learning

A fantastic 3-day conference to inspire outstanding practice!
Led by Kym Scott
Early Years Trainer, Consultant and Conference Speaker

Friday 15th November 2019 • 9:30 am - 3:30 pm
Saturday 16th November 2019 • 9:30 am - 3:30 pm
Sunday 17th November 2019 • 9:30 am - 2:30 pm
St Andrews International School Bangkok • Primary School

3-Day Conference: £275 (11,500 THB) / Individual Day: £100 (4,300 THB)

This 3 day conference will be led by acclaimed conference speaker, international consultant and early years expert Kym Scott. Kym is well known across the UK for her engaging delivery style, deep knowledge of how children learn best, and most importantly the huge impact she has made on the hundreds of teachers, schools and nurseries she has worked with over her 20 year consultancy career.
Sign up here
Youth Athlete Strength & Conditioning
Venue: BASE Thong Lo - Noble Remix (Sukhumvhit 36)
Cost: ฿2,400
We are working with Asia's gym of the year, BASE, to help young athletes learn more about Strength and Conditioning training. All sessions will be run and hosted by BASE's team of international coaches.

Saturday 2:00 - 3:00pm Weekly
300thb per session
2400thb for 8 week package.
BASE Thong Lo (Sukhumvhit 36)
Sign up here